Foresight
From high level global shifts years down the road, to regional or industry-specific findings, I find critical changes that affect consumer attitudes, design and technology, and provide direction to act upon these trends.
Scroll to see the services I provide.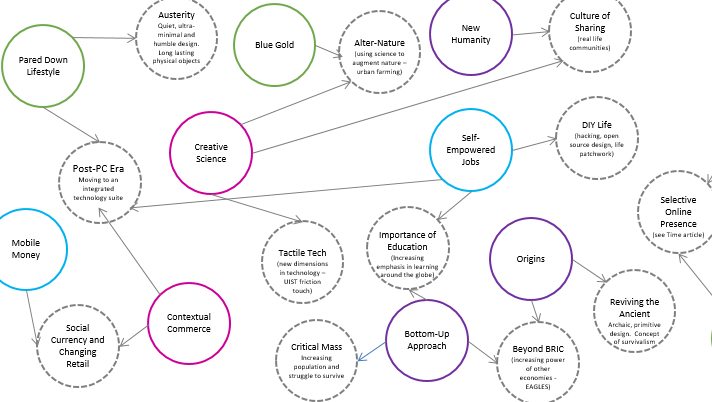 I examine weak signals in the fields of technology, science, environment, society, economy, and politics to forecast the "big picture" global trends that will impact us years in the future.
Every region will have its own unique take on a trend. By analysing these regional interpretations and nuances, I give tools that ensure that global designs and strategies are relevant to local markets.
I conduct in-depth research on a variety of specific consumer, design and technology industries, to give pertinent information on what is happening now and what to do next. Areas of research include wearable technologies, social media, packaging, small business, healthcare, industrial design language, marketing strategies, and enterprise.
I visit influential industry trade shows around the world and give detailed reports to provide supplemental insights to those who could not attend.
My first love, I forecast shorter (12-18 months) and longer term (2+ years) trends in colour, materials and finishes, with the ultimate goal of creating strategies for production.